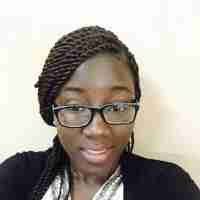 Kehinde Babaagba
Lecturer
Biography
Kehinde Oluwatoyin Babaagba is a Lecturer at the School of Computing at Edinburgh Napier University. She gained a First Class BSC (Hons) in Computer Science from Redeemers University, Nigeria, where she also emerged as the best graduating student of her set. She also holds an MSC in Computing Information Engineering (Distinction) from Robert Gordon University, where she also emerged as class prize winner for the MSC in Computing Information Engineering programme. She holds a PhD in Computing from Edinburgh Napier University. She worked as Associate Lecturer during her PhD and University Tutor at Edinburgh Napier University. Prior to joining Napier, she worked as Assistant Lecturer at Redeemer's University and Academic Trainee at Osun State University, Nigeria.

She has made contributions to the research community as well as industries within the context of applying AI techniques to solve real-world problems. During her masters, she worked with the Institute for Innovation, Design & Sustainability of Robert Gordon University on using competing mutating agents as a tool for improving the performance of genetic algorithms. Furthermore, she also contributed to the design of a system for analyzing a corpus of malicious instances using machine-learning strategies. Her PhD research paved the way towards prediction of malware evolution, which contributes invaluable knowledge to building robust systems that defend self-mutating malware. These have made significant contributions to cybersecurity specialists and researchers in securing the UK's networked and online activities from misuse, as well as promote better wide-spread adoption of trusted and secure Artificial Intelligence (AI) systems across the UK's digital economy. She has been able to publish some academic papers (https://scholar.google.com/citations?view_op=list_works&hl=en&user=5WYIQUsAAAAJ). Some of which have led to awards like Outstanding Student Contribution, Best Student Paper nomination and Excellent Oral Presentation.

More recently, Kehinde's research interests include transfer learning, computer vision, generative adversarial networks as well as other machine learning applications in cybersecurity. She is also involved in teaching and supervision of various honors and masters' projects. Besides, Kehinde is very passionate about mentoring young students interested in software engineering, data science and cybersecurity, to this end She is a STEM ambassador. This opportunity affords her the privilege of impacting knowledge and encouraging young students in their journey to becoming software engineers, data scientists and security specialists.

**********
Esteem
**********

Reviewing

• Finance Chair for the IEEE Conference on Dependable and Secure Computing (IEEE DSC 2022).
• Publication Chair for EvoAPPS 2022 part of Evo* which is the leading conference in Europe for Evolutionary Computation.
• Web and System Management co-chair for the IEEE International Conference on Smart City and Informatization (IEEE iSCI-2021).
• Reviewer for Journals like IEEE Transactions on Industry Informatics, Journal of Cybersecurity Technology, Journal of Security and Communication Networks.
• Participant of Student as Colleagues (SaC) in the review of teaching practices program with Edinburgh Napier University in partnership with the Department of Learning and Teaching Enhancement, from November 2018 to May 2019.
• Workshop Coordinator at the Scotland-wide SICSA (Scottish Informatics and Computer Science Alliance) 2018 PhD Conference.

Projects

• Evolutionary based Generative Adversarial Learning Approach to Metamorphic Malware Detection - SICSA Funded.
• Participant of the Edinburgh Napier University Data Driven Innovation City Deal Project.
• Member of the Curriculum Developers' Network of Edinburgh Napier University's Data Driven Innovation City Deal project.

Professional Membership

• Member of IEEE including Women in Engineering society and Computational Intelligence society.
• Member of ACM.
• Associate Member of ALT.
• STEM Ambassador under the Scottish STEM Ambassador Hub.